August 15, 2006
google local coupons -- will this work?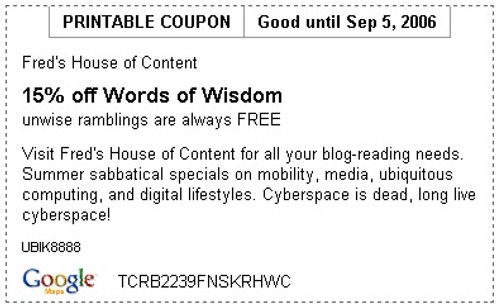 So Google is doing a coupon printing service for local businesses, through Google Maps/Local. I guess this is interesting, although I am not sure how well it will work out. It relies on businesses to set up coupons on Local, which means business owners need to know about it and take the initiative. Then consumers need to find them. Seems like it would require a large investment in awareness building; I would guess the Local user demographic does not overlap much with coupon cutters, although I could be wrong about that. Well, everyone likes to get a deal when they can I suppose.
Google has also partnered with ValPak, the blue-envelope direct mail coupon aggregator, to offer online discount coupons; ValPak already offers printable local coupons at its site, although I would never have thought to go there to find them. So I guess their integration with Local is mostly a distribution agreement.
Of course this is another step toward georeferenced advertising -- see the forthcoming Garmin SaversGuide digital GPS coupon book for example.

More discussion on these fine sites:
Googling Google, NYTimes, TechCrunch, All Points Blog, Search Engine Watch, SiliconBeat, The Merc.
Posted by Gene at August 15, 2006 11:18 AM | TrackBack