August 31, 2005
guitar heaven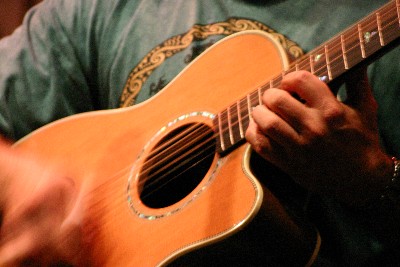 Back home after a fantastic weekend at fur peace with Steve James, Toby Walker (pictured), Paul Curreri, and Jorma. Much to say about this and other topics, but for now, here's the photographic evidence. I'd also like to recommend to you some superb music made by our instructors.
Last year was my first time at FPR, there's a bunch of pictures from that trip too.
Anyone planning to go in 2006? I'm signed up for Jorma's class over the October 20-23 weekend. Maybe see you there. UPDATED: Been there, done that, pics from October 2006. It is a true blessing to spend time at FPR!
Did anyone else get a chance to see Hot Tuna play at Hardly Strictly Bluegrass 2006? My buddy Randy and I were down front and I took a bunch of photos of Jack, Jorma and Barry, the Coward Brothers (Elvis Costello & T-Bone Burnett), the Flying Other Brothers, The "Weirbacks" (heh), and Emmylou Harris with John Starling & Carolina Star. It was a fantastic weekend, if you are in SF next year don't miss it!
*PS* Thanks to FPR for linking here, I'm honored, and I can't wait to get back to see all y'all again soon! If you get a chance, you should change the text of your link to 2005 instead of 2006... ;-)
Posted by Gene at August 31, 2005 10:00 AM | Last updated October 12, 2006